We first met at the Esri International User Conference in San Diego, California, in 2006 and share a passion for geoprocessing, spatial analysis and coding. Since then we have often talked about how we could best share our knowledge with the GIS community and help GIS professionals help each other be successful. This led to us creating our GIS Professional Development entity, GISPD.com.
Our mission is to support GIS professionals by providing informative resources on our website, organizing and participating in professional gatherings and conducting training events.
We will provide technical solutions, such as code samples and programming guidance and encourage discourse with respect to wider aspects of professional development, such as improving communication, enhancing innovative thinking and maximizing the value of geospatial technology.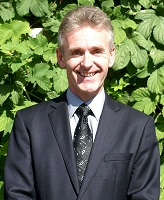 David Howes, Ph.D.
Geospatial Information Scientist & Owner - David Howes, LLC
David specializes in the development of GIS tools, processes and supporting infrastructure for a variety of clients from small operations to multinational corporations. With 23 years of academic and private sector experience in the UK and US, including an M.Sc. in GIS from the University of Edinburgh and a Ph.D. in Geomorphology from SUNY Buffalo, David's background is well-suited to developing innovative solutions to spatial problems. He is the founder of the Lone GIS Professional Initiative, helping GIS professionals working on their own or in small groups help each other, and is a Washington URISA Board member.
Jason Pardy
GIS Developer & Owner - Jason Pardy Consulting
Jason is a GIS developer for Voyager Search in Redlands, CA and has his own business, Jason Pardy Consulting. With 15 years of GIS and software development experience, he has a wealth of knowledge and hands-on experience with building, automating and optimizing GIS workflows in a desktop and server environment. Currently, Jason plays a major role in the design and implementation of the Geoprocessing framework for Voyager Search. For 14 years, Jason was a member of the Geoprocessing and Spatial Analysis team at Esri and held the following positions: development lead for Python add-ins in ArcGIS for Desktop, Quality Assurance lead and Team lead. Whenever Jason is not designing and developing new product features at Voyager Search or growing his own business, he can be found delivering presentations about spatial analysis, Python and geoprocessing.